Dater Foundation Success Stories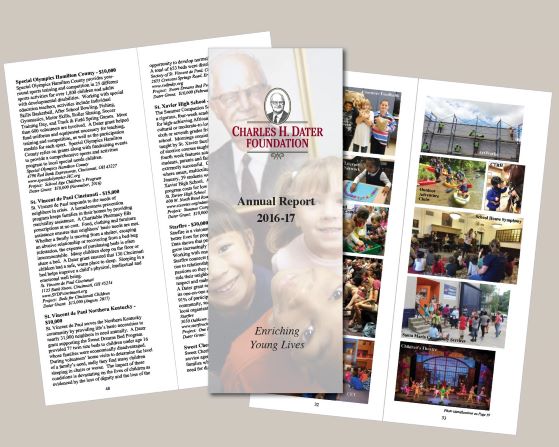 Click once on photo to enlarge
2016-17 Annual Report Available
The Foundation's annual report for the grant year 2016-17 is available on the web site in PDF format. Go to News/Photos, and then to Annual Reports. To request a copy of the 60-page publication, call the Foundation office at 513/241-2658 or email info@DaterFoundation.org.
The annual report features a year's worth of success stories and includes profiles the nonprofit organizations that received Dater grants in 2016-17 fiscal year (September 2016-August 2017) as well as the programs and projects that the grant awards supported. The publication also includes the Foundation's grantmaking history, grantmaking guidelines and other information.
The Foundation made 125 grants totaling $1,960,642 in its 32st year of grantmaking. From 1985-86 to 2016-17, the Foundation distributed over $43 million through more than 2,800 grants to over 400 organizations. In the 2016-17 fiscal/grant year (September to August), grants ranged from $1,000 to $50,000. The median grant was $15,000 and the average grant was $15,685.
The Foundation's grantmaking increased slightly and assets were at $52 million (up 8.4%) at fiscal year end in August 2015. The Foundation does not generate revenues through programs or gifts, so its grantmaking is tied to investment performance. While the focus remained on supporting previous grant recipients, grants were made to 12 first-time recipients. The Foundation continued to look favorably on programs that generate win-win successes (e.g., internships and service learning, where both service providers and those they help benefit) and make effective use of volunteers as a valuable organization resource.
The annual report is an extension of the Foundation's efforts to call attention to the good work being done by these nonprofit organizations.
---